Local residents are embracing time-lapse photography as a new home building essential.
Once thought of as something only for large-scale commercial projects, home builders and new home owners are increasingly seeing the benefits of investing in time-lapse photography for their residential build.
As more and more people look to build their own home, in part thanks to extra government assistance grants, time-lapse has found a place in families as an opportunity to keep a visual record of the momentous occasion that is building a family home.
Building your own home is a fantastic achievement, and each new milestone (slab pour, walls going up, final landscaping etc) is exciting, but keeping a history of each step is often forgotten at the time.
It's generally not until the project is completed that many homeowners wish they had a memento from that journey.
A time-lapse video sits in this space as the ideal digital keepsake.
It's also a great way to check in, during these uncertain times.
For many new homeowners who are building property interstate, or a great distance away from where they currently reside, it's often not possible to track progress in person.
With the remote site monitoring Sitevisual's time-lapse cameras provides, owners are able to check in on the progress of their build and view the latest shot online from anywhere, allowing owners to still feel a part of the journey even when circumstances keep them away from site.
Recently Sitevisuals chronicled a handful of new home builds for Plunkett Homes. Marketing Manager Merianne Hayles says the time-lapse addition has been very well received.
"[Our clients] have all been very excited about documenting their home build in this way," she says.
Although it's not just the clients who are benefitting, home builders are also seeing the value in this innovative monitoring tool.
"We wanted to capture the build of our clients' homes and display homes in a unique way," Ms Hayles says. "The time-lapse cameras give us the ability to showcase how our homes are constructed in a creative way."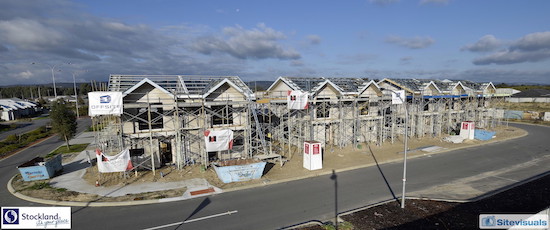 The use of time-lapse photography and videography for marketing purposes has often driven the decision for builder's to invest.
Ross North Homes Sales and Marketing Manager Shane Casserly says the company was eager to use time-lapse to showcase the right project.
"As the project [monitored by Sitevisuals] is of a fair size, being six two-storey townhouses in Applecross, we decided it would be a good idea to compile time-lapse photography to show the progress of the build, once completed, on our website," he says.
However, long before the final video is ready, remote site monitoring already proves its value through offering a unique client selling point, helping to settle disputes with subcontractors and as an additional security measure.
Users of Sitevisual's remote site monitoring system have found comfort in being able to quickly and easily settle any disputes that arise with subcontractors, thanks to the visually recorded timeline which easily shows what siteworks have or have not occurred.
Because of its live feed function and superb image quality, a time-lapse camera also offers some security benefits.
Even just the camera's presence on site can act as a visual deterrent to petty vandalism and other crimes.
But perhaps the greatest selling point for home builders is time-lapse photography as a selling point in and of itself.
As it starts to gain traction in the residential space, time-lapse is still a highly unique addition to offer new home clients and set a builder apart from its competitors.